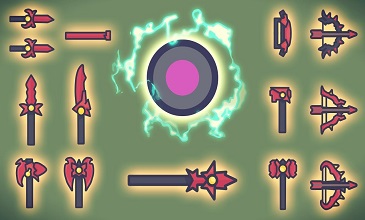 Moomoo.io weapons and moomoo.io accessories are what players need to know in the game of Moomoo.io. When you know the features and names of these items, you can dominate the game. In this article, we will examine Moomoo.io all items list.
Moomoo.io games are the latest ones that impact the majority of game lovers. In fact, they play a key role in satisfying the needs of players with the most advanced features. It is a web-based game allowing a person to play the same on personal computers directly. Moreover, the game also offers an app for mobile phone users and they can download it with ease. Players should aware of Moomoo.io all items properly before playing a game. This, in turn, gives ways to secure high points enabling a player to reach the next levels.
Knowing More About MooMoo.io All Items
Although Moomoo.io all items involve several things, items generally refer to hats and accessories and a player should know about them in detail. Hats are an ideal choice for players to defend against enemies and attacks from opponents. Since there are different types of hats available, a player and he/she can choose them based on the choices. It is possible to purchase the hats with gold while playing a game. On the other hand, a player can wear only one hat when playing Moomoo.io games. There is no best hat defined for players and all hats are preferable in different situations.
There are different types of weapons in the Moomoo.io game. These items are divided into two groups which are primary and secondary weapons. You can see a mixed list of two types of Moomoo.io weapons in the section below.
Crossbow
Repeater Crossbow
Hunting Bow
Bat
Musket
Daggers
Great Axe
Hand Axe
Great Hammer
Katana
Polearm
Short Sword
Stick
Tool Hammer
Stone Shield
Wooden Shield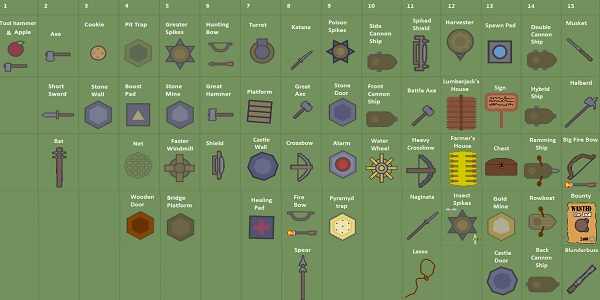 Accessories in MooMoo.io Games
Accessories are items in Moomoo.io games that play a key role in protecting a player from unwanted problems. While accessories provide high effects to players, some of them are purely aesthetic. Each accessory lets players defend opponents or other players with high success rates. There are some accessories a player can use them along with gears that can damage enemies and others accordingly. Moreover, some accessories provide methods to increase the sight range when a player wants to defend others. It is advisable to gather more information about them from a website while playing a game. You can try Moomoo.io private server to play Moomoo.io with more customized items.
The following section includes the Moomoo.io hats and the Moomoo.io gold price required to wear them to your character.
Shame! – Free
Moo Cap – Free
Apple Cap – Free
Moo Head – Free
Pig Head – Free
Fluff Head – Free
Pandou Head – Free
Bear Head – Free
Monkey Head – Free
Polar Head – Free
Fez Hat – Free
Enigma Hat – Free
Blitz Hat – Free
Bob XIII Hat – Free
Pumpkin – 50
Bummel Hat – 100
Straw Hat – 500
Winter Cap – 600
Cowboy Hat – 1000
Ranger Hat – 2000
Explorer Hat – 2000
Flipper Hat – 2500
Marksman Cap – 3000
Bush Gear – 3000
Halo – 3000
Soldier Helmet – 4000
Anti Venom Gear – 4000
Medic Gear – 5000
Miners Helmet – 5000
Musketeer Hat – 5000
Bull Helmet – 6000
Emp Helmet – 6000
Booster Hat – 6000
Barbarian Armor – 8000
Plague Mask – 10000
Bull Mask – 10000
Windmill Hat – 10000
Spike Gear – 10000
Turret Gear – 10000
Samurai Armor – 12000
Dark Knight – 12000
Scavenger Gear – 15000
Tank Gear – 15000
Thief Gear – 15000
Bloodthirster – 20000
Assassin Gear – 20000
Hats and Accessories for Increasing The Skills
Players can enhance their skills with Moomoo.io all items enabling them to secure high ranks on the leaderboard. For example, a camel hat makes feasible ways to walk faster in the desert terrain that allows a player to reduce 40% of damage from cactus. With a farmer hat, a player can earn 1 extra resource when he/she hits an apple tree. In the same way, a bomber backpack is suitable for a player to make damages in the surroundings when he/she dies. A player can also use other types of hats for defending enemies significantly. There are many different accessories for Moomoo.io unblocked game.